Jefferson County Dairy Breakfast draws 2,000 to Fair Park
By Alexa Zoellner azoellner@dailyunion.com | Posted: Monday, May 21, 2018 6:15 am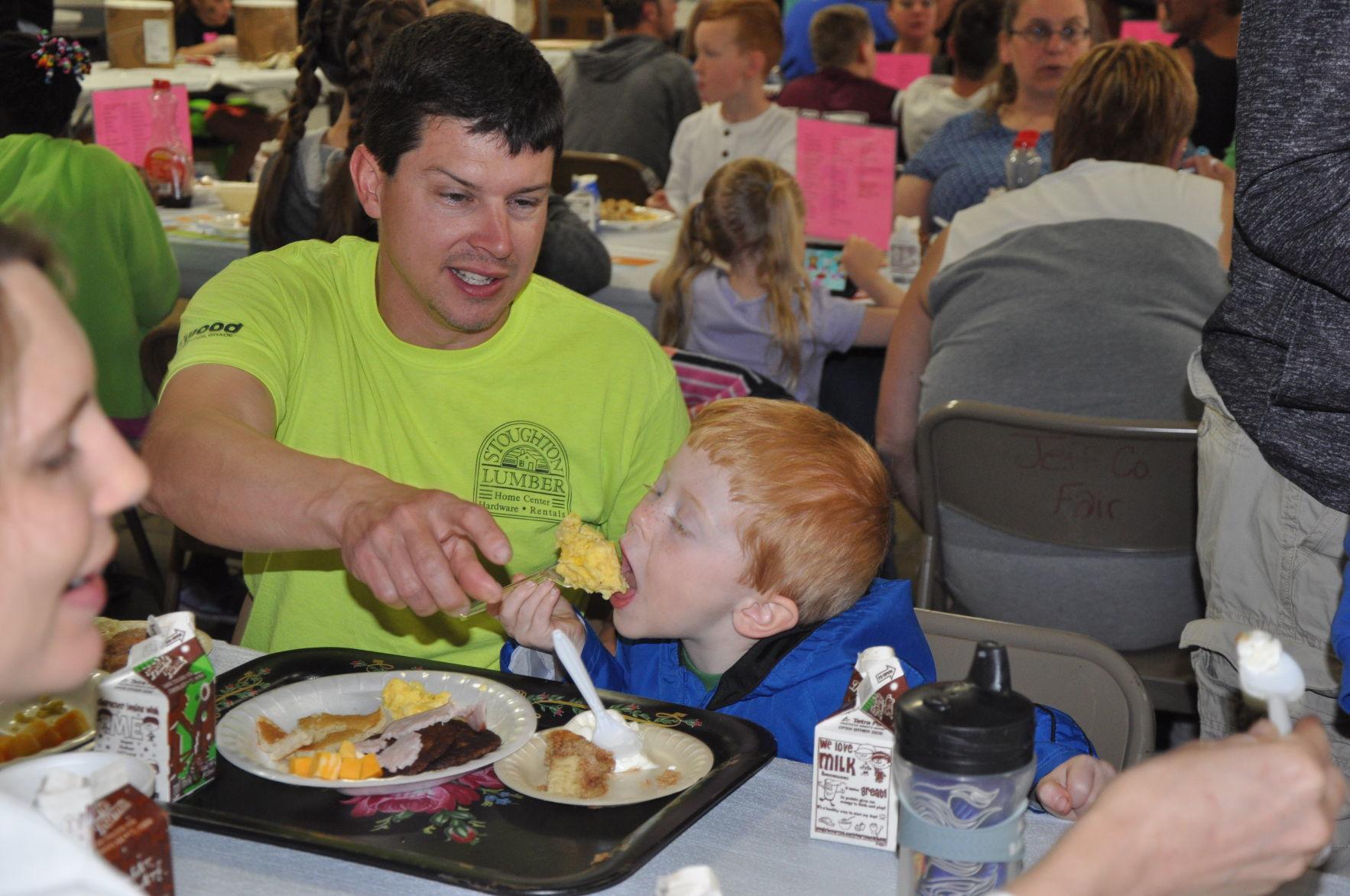 Alec Barton, 3, takes a bite of scrambled eggs with help from his dad.
JEFFERSON — About 2,000 people gathered at the county fairgrounds Saturday morning for the annual Jefferson County Dairy Breakfast.
The annual event was more than a morning meal, however. It was a reunion of sorts.
"It's just a community event where not only the people that come out (for breakfast), but the people that come to help, are from all over," Marlene Zick, secretary and public relations chair of the Jefferson Dairy Breakfast Committee, said. "There are so many people you only see once a year at the breakfast. They're hugging each other and going, 'Oh, it's so good to see you.' It just is a community thing and it's a happy event."
The event took place at the Jefferson County Fair Park Activity Center, where the line for the tickets stretched outside the front door at times.
"There was a line, but everybody was very patient," Zick said, noting that there was a slight delay with the cast iron pan used to make the scrambled eggs, but it didn't last. "We tried to get a second line open, but they couldn't keep up with the eggs. I was just grateful that the people in line weren't grumbling. They were very patient with us, and that's exceptional."
Attendees began lining up before 6 a.m., when the event began, she said. The line really began to pick up around 7 a.m. and remained steady until 11 a.m. when food stopped being served. The last of those eating were done around 11:20 a.m.
"I was out in the other building this year, so I didn't really see the lines," Zick noted. "But, the people that came by and talked to me, it seemed like they were all happy and full, enjoyed it and said everything was nice. So I'm happy about that."
The charity breakfast, which resumed 15 years ago after a hiatus and has been a highlight each year since, supports FFA and 4-H programs, agriculture-related scholarships and improvements at the fairgrounds.
As usual, the event featured an all-you-can-eat breakfast of Jones Dairy Farm sausage, plain and deluxe scrambled eggs, pancakes, Wisconsin cheese, milk, coffee, orange juice, dairy cakes with ice cream and a 300-pound banana split.
Approximately 200 pounds of cheese, 760 pounds of eggs, 825 pounds of sausage, 500 pounds of Canadian bacon, 4,000 cartons of milk, 30 gallons of ice cream served with the dairy cakes were used, in addition to the 300-pound banana split. The amounts of butter, sour cream, liquid eggs and orange juice were unavailable.
Activities included pictures with a calf, dairy trivia, a kids' pedal tractor pull, Addie the educational cow, balloons, a milk-drinking contest and more. Also, The Variations provided music during breakfast in the Activity Center and more than 20 vendors were on hand.
There to help serve the food, run events and clean-up were Jefferson Dairy Breakfast Committee members and about 250 youth volunteers — consisting of FFA, 4-H and scholarship winners — plus adult volunteers.
"The kids were fantastic," Zick said. "I had so many compliments, even out in the east barn where I was. I had so many people come past and say how great the kids were, that they had high energy and they did anything they were asked.
"The cooking crew is all volunteers that come in every year to do that for us, and they do a fantastic job," she noted.
"They get a T-shirt and some people don't even remember to thank them, to say, 'Hey, you did a good job cooking,' but they do a fantastic job. They're there by 4:30 a.m. to start that coffee going and start those grills going. So big kudos to them, because that's fantastic."
Cleanup of the floor, tables, chairs and dishes took several hours. Youth volunteers finished their part by about 1 p.m., while some adults remained until closer to 5 p.m.
"Those kids broke down those tables and chairs (quickly)," Zick said. "I couldn't believe how fast they were loading that stuff up. These are the scholarship winners, the FFA-ers and the 4-Hers.
"On Friday night, I had three people just walk in because the mother saw online that we needed help and she grabbed her two boys and came out," she added.
"They weren't even signed up to help and they came out and helped set up all the tables and the placemats and everything."