Economic development from Hoof Health, BPI expansions celebrated
By Alexa Zoellner azoellner@dailyunion.com |
Posted: Thursday, April 12, 2018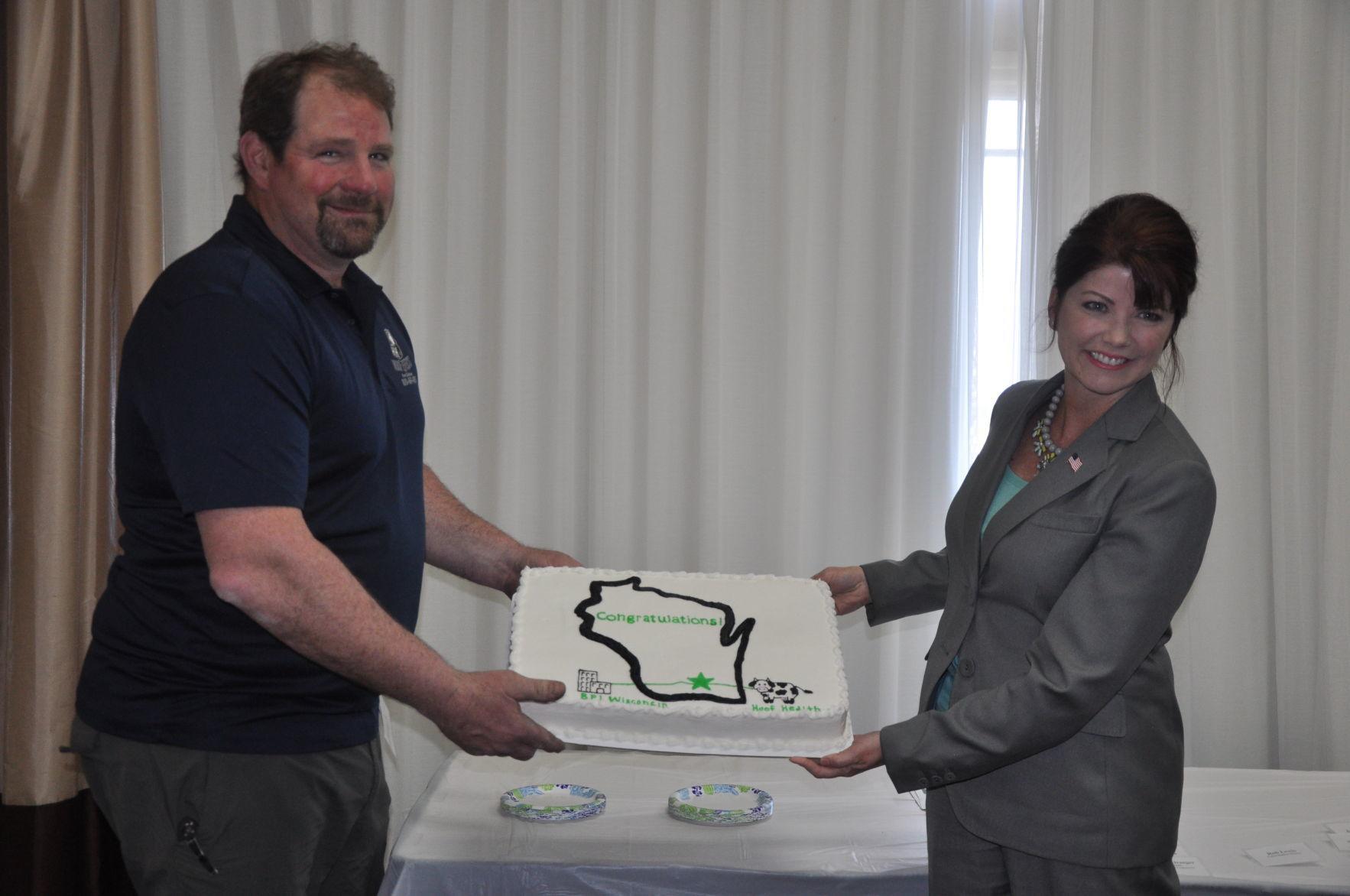 Economic development


Lt. Gov. Rebecca Kleefisch helped celebrate two companies' expansions in and into Jefferson County Wednesday morning. Hoof Health LLC recently built a new production facility in Johnson Creek and Building Products Inc. (BPI), which is based in Watertown S.D., expanded into Watertown, Wis. The event was organized by ThriveED at the Comfort Suites in Johnson Creek. Shown above, Kleefisch, right, displays a cake with the help of Jeremy Kastner, founder of Hoof Health. BPI representatives were unable to attend.
JOHNSON CREEK — The success stories of two businesses in the Jefferson and Dodge county region were celebrated Wednesday with help from state Lt. Gov. Rebecca Kleefisch.


Hoof Health LLC's new product facility in Johnson Creek and Building Products Inc.'s expansion into Watertown were honored by Thrive Economic Development (ThriveED), a nonprofit 501(c)(3) public-private organization created to promote the economic competitiveness of the Jefferson and Dodge county region. ThriveED is the name under which the Glacial Heritage Development Partnership (GHDP) does business.
Kleefisch served as the keynote speaker for the event, which was held at the Comfort Suites in Johnson Creek, just down the street from Hoof Health's new facility.
"Economic development is a team sport," ThriveED President Victoria Pratt, who also heads the Jefferson County Economic Development Consortium (JCEDC), said.
"We do none of this by ourselves. I've been engaged with some of these companies for the better part of a year, in one case, and almost a year in the other case. It takes a lot of people working together to make these projects happen."
Building Products Inc. (BPI) has its headquarters in Watertown, S.D. It is a wholesale distributor of building materials, exterior doors, windows and millwork products.
"Working with the Watertown chamber last July, Thrive completed a site search for the company, linked them up with several key contacts at the city and local manufacturing folks who could really speak to their personal experience about doing business in Watertown," Pratt said. "By December, we were able to announce that BPI had signed a lease and intended to open up for business in Watertown, Wis. Their initial capital investment is $400,000 and they are hiring their ninth employee today (Wednesday)."
In December 2017, BPI leased space in a 72,000-square-foot warehouse at 426 S. Montgomery St. in Watertown, Wis. The company has additional locations in South Dakota, North Dakota and Iowa.
"The Glacial Heritage Development Partnership played an invaluable role in bringing together and coordinating all the parties involved with this expansion," Kurt Katuin, assistant general manager for BPI, said in a press release. "The GHDP was instrumental in this process and a great asset. … We're really pleased with how this came together."
Hoof Health LLC was founded in 1999 by Jeremy Kastner, who started his career hoof-trimming in 1994 and saw a need for hoof-care solutions to treat digital dermatitis in cattle. Product development eventually resulted in the company's Hoof Effects Foot Solution.
Hoof Health had been renting space in Helenville and took occupancy of the new 10,000-square-foot light industrial facility in Johnson Creek in February.
"I first met with Jeremy in the fall of 2016, so this has taken a while, but the point is, it got done," Pratt said. "We did a site search to find the right location for his investment. There was a lot of back and forth and a lot of looking around the county at a variety of different places. Ultimately, Johnson Creek was able to put together a winning proposal that really met Jeremy's needs."
Kastner was a joy to work with, she added.
"The Glacial Heritage Development Partnership played a key role in helping to identify Johnson Creek as the optimal site for our facility," Kastner said in a press release. "Jefferson County has a lot of great communities and we're excited to be part of the Johnson Creek community."
Kleefisch congratulated both companies on their growth, as well as Jefferson County as a whole.
"When you think about economic development, you think about the ways communities come together," the lieutenant governor said. "The way neighbors support small businesses and entrepreneurs and the way we want to develop our state. It's very clear to me that Thrive and Jefferson County, Watertown, the Village of Johnson Creek and even my new town, the Town of Concord, … are really, really great in making efforts toward developing their own economies."
It is something the state works "really, really hard on," Kleefisch said. She explained that she works with state Rep. Cody Horlacher, R-Mukwonago, who also was in attendance, and the entire legislative team on a weekly basis.
"Our entire legislative team — Democrat, Republican and everybody in between — are actually kind of pulling in the same direction," Kleefisch noted. "You wouldn't probably believe it from some of the things that you hear or read or see on TV, but it's very true. At the end game, everyone wants a successful state and one of the hallmarks of success is a blossoming economy."
To talk about economic development is to talk about the success of the State of Wisconsin, she said. It's a success that wouldn't happen unless there was collaboration between communities, neighbors, small and large businesses, academia and government.
"We (government) like to think that, even though we frequently are the regulators in place, we are also the ones who deeply want the success of our citizens," Kleefisch said. "I think that's all of our hope. The way we've done it over the last eight years, at least, is by creating a climate that nurtures small business success.
"We like to think that Wisconsin is open for business again and the proof, I suppose, is in the numbers," she added. "Today, our state's unemployment rate is the lowest it has ever been. But, for our businesses, that actually proposes new challenges."
The need to hire new employees means that employers must determine who the best qualified workers for open positions are, Kleefisch explained. It's something that varies industry to industry, company to company and position to position.
"Well, that's where that collaboration piece comes into play again," she said. "Because, after we collaborated to create an environment where businesses can grow and succeed, we, too, now need to create an environment where we're raising up the workforce of the future.
"I think that we've done that pretty aggressively in three different ways and I think that Jefferson County has embraced that uniquely," Kleefisch added.
The lieutenant governor took some time to speak about the efforts under way by state officials to encourage and enable those not currently in the "talent pipeline" to jump back in and be prepared as they begin looking for work.
Coming back around to Hoof Health and BPI, Kleefisch said, "These are two businesses today that are growing, here in Wisconsin, and we are so proud of that."
Kleefisch joked that she and Kastner, of Hoof Health, went back all of two weeks. Nevertheless, she said, she was impressed by his commitment to his work. Having dedicated her year to studying agriculture, she said, she got "quite an education" the morning she spent talking to Kastner about his company.
"(Kastner) developed his own concoction that began genuinely helping herds across Wisconsin and, now, not just across the Midwest, but also on the East Coast," she noted. "What he has done is, organically and naturally, developed not just a business, but a business plan that has grown so much that he has a brand new building."
Kleefisch continued: "Hoof Health is a great example of how Wisconsin businesses can grow naturally and organically, particularly when they are nurtured by their community and the local and regional economic development experts."
BPI is another example, Kleefisch pointed out.
"If the construction industry in Wisconsin — which is truly our canary in a coalmine — is singing and growing, you know that our economy is on a tear, we're on a surge," she said. "If the construction industry is contracting, well, you know that we're about to see a struggle. Right now, with BPI making a move to Wisconsin, Watertown to Watertown — it must have felt very familiar and good, is what I'm thinking — that is a great indicator that Wisconsin's economy is healthy."
Wisconsin's economy is doing "incredibly well" and it is something that everyone can be proud of, because everyone had a part in its resurgence, according to the lieutenant governor.
"Whether it was from a worker's standpoint, a policy leader's standpoint, an economic or workforce development standpoint, you all had a hand in it," Kleefisch concluded. "For that, you have our incredible gratitude from the great State of Wisconsin."